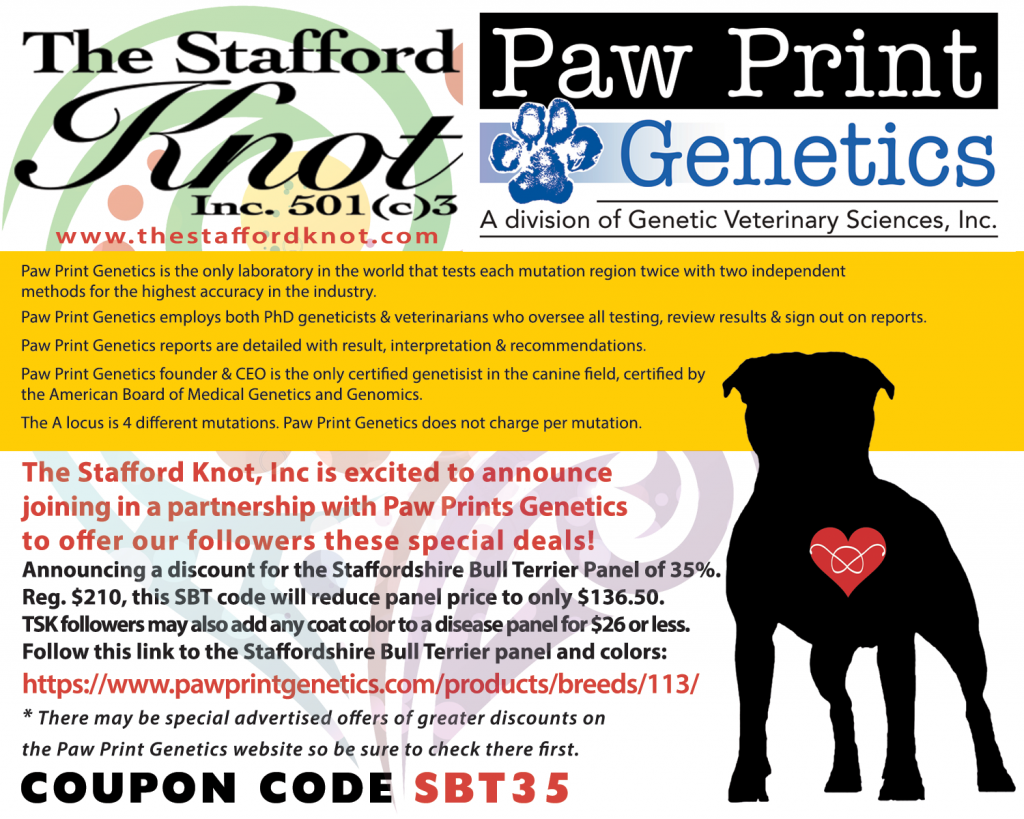 The Stafford Knot, Inc is excited to announce joining in a partnership with Paw Prints Genetics to offer our followers these special deals! Announcing a discount for the Staffordshire Bull Terrier Panel of 35%. – Reg. $210, this SBT code will reduce panel price to only $136.50. – TSK followers may also add any coat color to a disease panel for $26 or less. Please use the coupon code below to pre-pay for your testing when you place your order.
Follow this link to the Staffordshire Bull Terrier panel and colors:
https://www.pawprintgenetics.com/products/breeds/113/
* There may be special short term advertised offers of greater discounts on the Paw Print Genetics website so be sure to check there first.
Paw Print Genetics may not be the least expensive option but you can be confident that they currently offer the best results in the industry.
• Paw Print Genetics is the only laboratory in the world that tests each mutation region twice with two independent
methods for the highest accuracy in the industry.
Paw Print Genetics employs both PhD geneticists & veterinarians who oversee all testing, review results & sign out reports.
• Paw Print Genetics reports are detailed with result, interpretation & recommendations.
• Paw Print Genetics founder & CEO is the only certified genetics in the canine field, certified by
the American Board of Medical Genetics and Genomics.
• The A locus is 4 different mutations. Paw Print Genetics does not charge per mutation.